Create a new space to share family time – all year round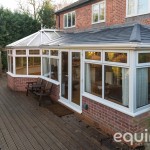 It's little wonder the concept of a conservatory inspires so many homeowners. Making the most of natural light in an airy, bright space is an appealing idea that leads to thousands opting to improve their homes in this way every year.
Sadly, the reality may not live up to expectations. Seasonal changes can make a conservatory impractical and uncomfortable, with dramatic fluctuations in temperature in both summer and winter – creating more of a hindrance than an asset.
However, all that is set to change.
Changes to current building regulations mean options are opening up in the construction of conservatories – and in the case of an Equinox tiled roof, this could revolutionize these fabulous spaces forever.
Equinox is a fully insulated tiled roof system that delivers superlative results in thermal regulation – which means the conservatory will remain at a pleasant ambient temperature whether the sun is roasting or the snow falling. It also reduces the possibility of those leaks and condensation that can trigger mould growth or damp problems.
In fact, adding an Equinox roof to a conservatory does more than improve the looks and atmosphere of the space – it creates a room that's as versatile, solid, and stylish as a complete extension… at a fraction of the cost.
What's more, with an Equinox roof, styling is as important as performance. This state-of-the-art system comes in a range of options to suit any home, from a seaside manor to city terrace. Choose from premium slate style tiles or standard steel tiles, each in a variety of colourways. There are interior options too – both plasterboard and tongue and groove timber are available.
Optimising natural light
 One misconception about a solid tiled roof is that it might reduce the amount of natural light enjoyed in the conservatory. With the Equinox system, you can enjoy the benefits of a variety of stylish roof lights, which let that sunshine flood in to give a room that's bathed in warm light. Like the rest of the Equinox range, they're designed to give outstanding results with unparalleled ease of installation.
Versatile, stylish… and so easy to install
An Equinox roof system is not just for the conservatory, either. These dynamic systems are a perfect fit for a variety of flat-roofed structures, from new or existing extensions to porches and porticos. Wherever they're fitted, they create an aesthetically pleasing appearance that will add to the value of a home, while enhancing the quality of life of those who live there.
And Equinox has been designed by professionals who lead their field, so its ease of installation is second to none. Each lightweight, ready-cut kit can be in place and fully functional with 48 hours – and it'll be watertight the very same day.
A greener option
 These days, improved energy performance is on everyone's lips, and Equinox delivers superb efficiency, with U-values as low as 0.15. That means homeowners will enjoy that year-round comfort in the building's ambient temperature – while heating bills are reduced, too.
And the good news does not stop there: the system's full 10-year guarantee means those savings will continue for years to come.
You want be sure that your new conservatory roof matches the particular style of your home, so choose from two tile options available in a range of contemporary and traditional colours
 Premium composite roof slates
Made from a recyclable mix of slate and polypropylene, Tapco tiles bring the natural look of traditional slate roofs but with no risk of shattering, fading, warping or cracking. They are available in a variety of colours: Brick Red * Pewter Grey * Stone Black * Chestnut
Standard steel tiles
These high-quality Metro tiles are made from lightweight steel and are available in a choice of colours: Charcoal * Moss Green * Antique Red * Burnt Umber * Ebony
Equinox can be used with any conservatory roof style – Edwardian or Victorian and double hipped, gable ended, p-shaped and lean-to.
Select the guttering, fascia and soffit colours that will perfectly complement your property.
Equinox. The difference is night and day.
Discover the benefits that an Equinox tiled roof can bring to your home. Just email us or follow the link for more detailed information. http://www.eurocell.co.uk/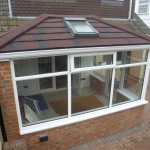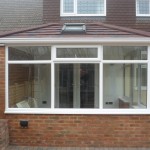 This is one of our more recent installations.